Welcome Message
Welcome to the website of the Harbourfront Commission.
Each of us has a unique Victoria Harbour in our heart. Victoria Harbour is rooted in many aspects of my life: I have grown up alongside the harbour, where I have imprinted countless footprints throughout my daily work and social life. During busy days, a Star Ferry ride across this dazzling and tranquil harbour has always helped me restore my inner peace.
Victoria Harbour has witnessed Hong Kong's transformation from a small fishing village to a cosmopolitan city. Apart from being a working harbour, it has also become a leisure and recreational hub where people relax and socialise. Our vision is to develop with the community the Victoria Harbour as a valuable public asset which will bring pride and enjoyment to our fellow citizens. With the support of Harbour Office of the Development Bureau, the Commission accords priority to public interests. We invite members of professional industries, non-governmental organisations, local community and private sectors to offer views on the planning, design, development and management of harbourfront areas, with a view to creating harbourfront sites that can best meet the needs of the general public.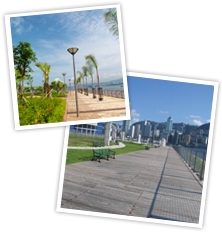 To develop a new generation of harbourfront, we have experimented a variety of new design and management models in recent years. The "incremental approach" aims to connect different parts of the promenade as quickly as possible, such that the public can access to the harbourfront sites one to three years ahead of the original plan. Meanwhile, we have introduced the "Habourfront Shared Space" to encourage inclusive harbourfront experiences through an open management model under the "vision-driven" approach. We have engaged local illustrators and artists to add colours to our harbourfront with creative installations and play equipment. Moreover, to bring people closer to the water, we have progressively introduced the "fence-free design". We started off with removable fence and low kerb design, then the sloping sea wall, followed by fence-free breakwater. More recently, we adopted the harbour steps design in the Water Sports and Recreation Precinct (Phase 2) which has been very well received as the public could enjoy the stunning coastline of Hong Kong from a different and fenceless perspective. I am glad to see that nearly 80% of the respondents in a public opinion survey expressed their satisfaction with the fence-free designs. We will strive to incorporate more water-friendly elements in upcoming harbourfront projects.
More harbourfront spaces with a brand new look will be made available in the near future, including the Revitalised Typhoon Shelter Precinct and Water Sports and Recreation Precinct (Phase 3) in Wan Chai as well as the first public open space by private developers in Kai Tak. The construction works of the Boardwalk underneath the Island Eastern Corridor connecting Fortress Hill and Quarry Bay has also commenced. Upon the completion of various projects, the total length of promenades is expected to extend to 34 kilometres by 2028.
I hope that the Commission can serve as a platform to engage the community engagement, as well as to bring people to the harbour and the harbour to the people. We value your views and suggestions. Commission meetings are open to public and papers are available in the public domain. Please visit here if you want to know more about the Commission's work.
Let's work together to achieve, through collective wisdom, our shared vision to create an attractive, vibrant, accessible and sustainable harbour of vitality for the people.
Vincent Ng, S.B.S. ,J.P.
Chairman
Harbourfront Commission